60 Plus Association's Award Recognizes Legislators for Work on Behalf of Senior Citizens
July 19, 2018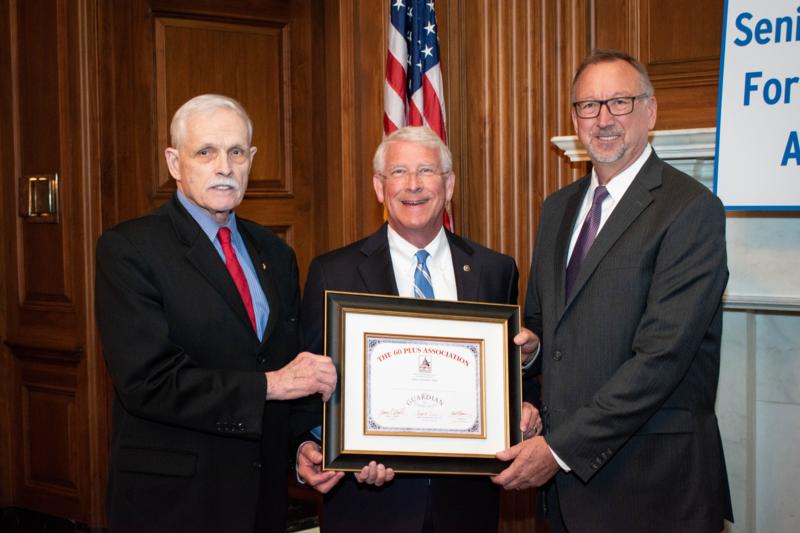 WASHINGTON - U.S. Senator Roger Wicker, R-Miss., this week received the 60 Plus Association's "Guardian of Seniors' Rights" award, which recognizes members of Congress who fight on behalf of senior citizens.
"I am honored to accept this award from the 60 Plus Association," Wicker said. "Throughout my time in office, I have supported policies that address the unique challenges faced by America's seniors. We must keep fighting to ensure that older Americans have access to retirement and health-care programs as well as protect vulnerable seniors from targeted financial scams."
Pat Boone, record-breaking musician and national spokesman for the 60 Plus Association, announced the award.
"I'm still singing at concerts, but today I'm singing the praises of Senator Wicker," Boone said.
60 Plus founder Jim Martin and current president Saul Anuzis presented the award to Wicker.
"The Guardian Award is given to members of Congress in appreciation of their tireless efforts on behalf of senior citizens, as so many of our elderly struggle on a fixed income. Seniors have to live within their means and so should our government. We also particularly appreciate the efforts by Senator Wicker to assure the financial stability of Social Security and Medicare," Martin said. "That's why Senator Wicker has earned the Association's highest award."
The 60 Plus Association is a 26-year-old nonpartisan organization that advocates for senior citizens, particularly those living on a fixed income. 60 Plus supports a limited-government approach and has advocated for legislation to repeal the death tax, provide affordable health care, and preserve Social Security and Medicare, among other initiatives.